Overview
Trip Outline
Includes / Excludes
Map
Gallery
Reviews
Booking
FAQ
An easy hike trip combined with traditional local activities for adventure lovers, for nature and wilderness admirers. In the middle of the autumn, when the colors of the forest change to brown and red tints, nut fruits are ready to collect and the outdoor air turns fresher. Sensing the immensity of the mountains and authenticity of local life, all four yourselves, when almost no tourists are left.
Pindos is a mountain range in Northwest Greece bordering Southeast Albania. It contains the highest peaks of the country (like the Astraka peak, 2.432m) and the "deepest relative to its width" gorge in the world, Vikos Gorge, also part of our hiking itinerary. This mountain gem is home to 46 typical "stone-house" villages, dating from the IX century, still connected through a network of old mule paths and well-preserved old stone bridges crossing dozen of rivers. Villages are beautifully set by their charming stone-paved streets. It is a unique nature and cultural heritage waiting to be responsibly explored by all those nature, traditions, and hiking lovers. A journey of approx 80km and 7 days dedicated to the novel mountain trails in Pindos.
Highlights
Autumn forest colors
Beloi viewpoint
Vradeto Steps
Stone Bridges Trail
Traditional stone-house villages
Vikos Gorge
Traditional cooking
Local Spirits making
Characteristics
Next Trips:
From Saturday 14 to Sunday 22 October 2023
Prices from €990 depending on the number of travelers.
Feel free to contact us and Send Us Your Trip Enquire Here!
Or send us your questions to:  contact@originaria-travel.e
Day 1: Arrival in Thessaloniki
Depending on your flight schedule, and after checking-in at the hotel we have arranged for your first night, take the time to go sightseeing in the city centre. A visit to its main ancient sites (Greek, Roman, Byzantine, Ottoman) present in almost every corner of the city, will give you a good impression of the historical importance of Thessaloniki. Or discover its local markets and start testing the local flavours in any of its good local restaurants.

overnight in Thessaloniki
Day 2: Thessaloniki – Metsovo - Tsepelovo
After picking you up from your hotel early in the morning, we will travel by private transport from Thessaloniki to Pindos in the Zagori region (approx 4 hours). On our way to Zagori, we will first stop at the historic town of Metsovo where we will visit a well-known local winery run by one of the oldest traditional families of Greece. Here, we will also have our lunch in a traditional local restaurant. After lunch, we will drive to Tsepelovo village where in approx 1,5 hours we will meet Ms Anthoula who will wait for us at her typical guest-house. Time to explore this charming old village, its stone-paved streets, and enjoy your dinner at its main square.

transfer distance: 300km       

duration: 4h
 

overnight in Tsepelovo
Day 3: Thessaloniki – Vradeto – Beloi – Kapesovo - Tsepelovo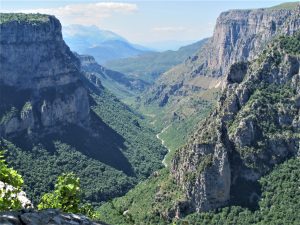 After breakfast, a short transfer of 20 minutes to Vradeto village where our fiirst hike will start. We commence walking to the panoramic bird-eye viewpoint of Beloi welcoming you with its dramatic view over the Vikos Gorge (1,5 hour up and down). Back in Vradeto, we can join a cooking workshop and learning how to prepare the traditional local pie and having our lunch break. We continue hiking to the picturesque village of Kapesovo. The trail goes through the Vradeto steps, a centuries old stones stairway which connects these two villages. In Kapesovo you will have time to walk and explore its traditional small stone paved streets, or drinking a coffee at the square of the village, while enjoying the quietness of the mountain scenery. Time permitting, we could hike one more track from Kapesovo to Tsepelovo (5km-2h) or taking the transfer directly to Tsepelovo where you can calmly enjoy the rest of the afternoon scrolling around its stone streets, sitting at a terrace cafe, visiting its ancient Greek Orthodox Church or simply relaxing at your accommodation.

hike distance: 7,5km               

duration: approx 2,5h       

ascent 797m - descent 832m
 

overnight in Tsepelovo

Day 4: Tsepelovo – Negades - Tsepelovo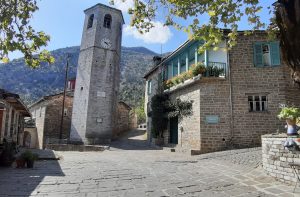 From Tsepelovo, a pleasing and easy half-day hike to Negades along one of the most untouched trails in the area, beautifully surrounded by beech forests and scenic views of the mountains. We will encounter our first stone-bridge (Chatsiou Bridge), following a small stream for approx one hour before reaching the ridge that leads to the outside forests around Negades. This almost abandoned village is maybe one of the least explored in Zagori. Nevertheless, its abandoned character has ironically helped to keep the charm and authenticity of its constructions and local life. In Negades, we will visit its impressive Saint George Church considered the most relevant in Epirus region due to its triple nave interior and walls' structure. Its old frescoes and Tower speak of the splendor past of this village. We will scroll around its old streets discovering even one of the tallest stone-house of its style in the entire area. In the surroundings, we can walk to the lookout points to contemplate nature or to the near rivers to chill, have a healthy bathing in the cold waters, and relax. Mid-afternoon we will move back to Tsepelovo where we will visit a house museum to learn about the old times' local life.

 distance: 9km       

duration: approx 3h       

ascent m - descent m
 

overnight in Tsepelovo
Day 5: Tsepelovo – Kipoi - Bridges Trail - Vitsa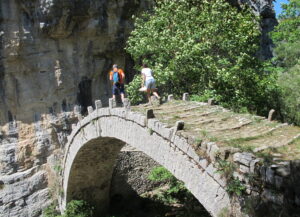 A long though easy cultural hike in Central Zagori that passes through 6 traditional old stone bridges, typical constructions of the area dating from the 17th and 18th centuries. From Tsepelovo, a short transfer of 20 minutes to Koukouli village where our hike will begin. From Koukouli, we start hiking down to the village of Kipoi for approx 40 minutes. Here we will visit the Lazaridis Bridge just next to the village and Mylos Bridge a few hundred meters from the main road. We continue through the Bridges Trail for approx 3 more hours crossing the most characteristic stone-bridges of this trail (Plakida, Kokkoris and Misiou bridges) until we reach Vitsa village. From here, only 15 more minutes hike before arriving at Land Beyond guesthouse. You can enjoy your dinner at any of the several local restaurants in the village.

distance: 12,5km       

duration: approx 4h       

ascent 797m - descent 832m


overnight in Vitsa

Day 6: Zagori Experience in Vitsa
A full day combining easy hikes and traditional activities. In the morning, we will walk along the surrounding hills collecting herbs and learning from the expertise our local guide will share with us. If we are lucky and there was enough rain few days before, we could practice "mushroom hunting", learning how to recognize them. These collected local natural products and other local typical goods we will cook them in a traditional outdoor style with basic cooking equipment that local people used to utilize in the past.

overnight in Vitsa
 Day 7: Monodendri Day and surroundings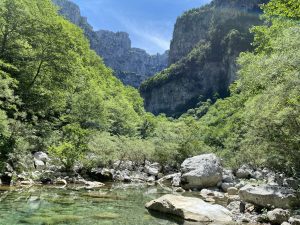 Today is intended to calmly decide by yourself how to discover more about Zagori nature heritage and its local culture and traditions. From freely exploring the village corners, stone-paved streets and architecture, visiting its several old Orthodox Churches and Monasteries. The oldest in Zagori, Agia Paraskevi, is dating from the 15th century, Agia Paraskevi, just 15 minutes walk from the village with its well-preserved frescoes and astonishing panoramic view of Vikos Gorge. A visit to the handcraft Textile Museum can also be of interest. Alternatively, you can walk to the Stone Forest (rock formations assimilating a forest), one hour going and back.

overnight in Vitsa

Day 8: Vitsa - Thessaloniki
Enjoy your late wake-up and your fresh homemade breakfast. For now, the last breakfast during your mountain journey in Pindos. Calmly, we will start our driving back to Thessaloniki where we have a comfortable hotel arranged for you. The rest of the day will be for yourself, to explore a bit more of this lively city.

overnight in Thessaloniki
Day 9: Departure from Thessaloniki
Transfer from your hotel in Thessaloniki to the airport. Time to recap your Pindos experience or, depending on your flight schedule, you can even consider extending your trip in the region. We are ready to help you with your inquiries.
Trip Includes:
All transfers mentioned during the trip (private minivan with AC)
6 overnight stays in typical guesthouses based on 2-persons (private double room)
2 overnight stays in a 3-star or 4-star hotels in Thessaloniki
8 breakfasts at the guesthouse accommodations and hotels
5 lunch-boxes
1 lunch buffet (day 2)
1 tapas dinner (day 1)
Luggage transfer between the overnight locations
Full dossier with the route and activity descriptions in English and Dutch
English-speaking mountain guide
Tourist tax
Trip Excludes:
International, domestic flights
Dinners
Drinks, snacks
Entry fees (local museums)
Tips
Insurances
Optional Single Room (€250 extra)