Overview
Itinerary
Includes / Excludes
Map
Gallery
Reviews
Booking
FAQ
A moderate to demanding guided hike in the unique and still pristine Pindos area. A mountain range in Northwest Greece bordering Southeast Albania. It contains the highest peaks of the country (like the Astraka peak, 2.432 m) and the "deepest relative to its width" gorge in the world, Vikos Gorge, also part of our hiking itinerary.
This mountain gem is home to 46 typical "stone-house" villages, dating from the 9th century, which are still connected through a network of old mule paths and well-preserved magnificent stone bridges crossing dozen of rivers. All of these villages are beautifully set by their charming cobbled streets. [All our overnights during this trip are in these traditional stone-house accommodations; click here to see them]
Nowadays, a unique culture and nature patrimony, an unspoiled destination for hiking lovers, for nature and traditions seekers to responsibly explore, consciously sense and preserve. A journey of approx 80 km hike exploring this marvel only a few hours away from home.
Highlights 
Stone Bridges hike
Vradeto Steps
Traditional stone-house villages
Vikos Gorge
Astraka Plateau
Drakolimni (Dragon Lake)
Rock Pools
Characteristics
Next Trips:
Saturday 09 to Sunday 17 September 2023
Prices from €1190 to €1590 depending on the season and number of travelers.
You can contact us and Send Us Your Trip Enquire Here!
Or send us any questions for your travel plan to:  contact@originaria-travel.eu
Day 1: Arrival in Thessaloniki
After landing at Thessaloniki airport, a private transfer will take you to the hotel booked for your first night. Take the time to go sightseeing in the lively city center or join us for a city tour we have arranged with Maria, our city tour expert. A visit to its main ancient sites (Greek, Roman, Byzantine, Ottoman) present in almost every corner of the city, will give you a good impression of the historical importance of Thessaloniki. Agora, forums, churches, mosques, arcs, baths are testimony of its ancient settlements. Or discover its local markets and start tasting the local flavours in any of its good local restaurants.
Around 19:00 we will take you for a welcome tapas dinner at a local Greek restaurant, and start to discover its yummy and healthy food.

Day 2: Thessaloniki – Vradeto – Beloi – Kapesovo - Tsepelovo
Early morning, we will depart from Thessaloniki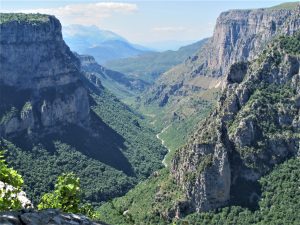 directly to Pindos in the Zagori region (appr0x 4 hours by private transport), arriving in Vradeto village where, after the lunch break, our first walk will start. We commence walking to the panoramic bird-eye viewpoint of Beloi, welcoming you with its dramatic view over the Vikos Gorge (1,5 hours up and down). We continue through the emblematic Vradeto Steps to Kapesovo village (1 hour) where we can have a coffee at the main square facing the mountains scenery. Time permitting, we could hike one more track, from Kapesovo to Tsepelovo or we take the transfer directly to the village where Ms Anthoula will wait for us at her typical guest-house.

transfer distance: 300km       

duration: 4h


hike distance: 12,5km       

duration: 4-4,5h       

ascent 430m - descent 685m

Day 3:
Kipoi - Bridges Trail – Vitsa
A long though an easy and charming cultural hike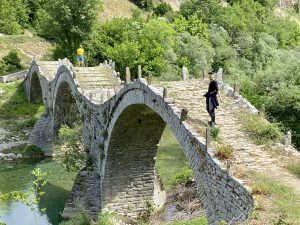 in Central Zagori that passes through 6 magnificent old stone bridges, typical constructions of the area dating from the 17th and 18th centuries. We start from Tsepelovo, following a wide path flanked by pine and beech forests, crossing the first stone-bridge (Chatsiou) until we reach the village of Kipoi (2,5 hours). Here we will visit the Lazaridis Bridge just next to the village and Mylos Bridge a few hundred meters from the main road. Time for a short rest and our lunch break. We continue through the Bridges Trail for approx 3 more hours crossing the lasts and most characteristic stone-bridges of this trail before arriving in Vitsa village where we will stay the next two nights. A local typical dinner will be waiting for us at our accommodation.

distance: 18km       

duration: approx 5-6h       

ascent 795m - descent 830m

Day 4: Monodendri and surroundings
Today is intended to calmly decide by yourself how
to discover more about Zagori, its nature heritage and its local culture and traditions in the surroundings of the picturesque village of Monodendri. You can freely stroll around the village corners, stone-paved streets, and architecture icons, visiting its several old Orthodox Churches and Monasteries. The oldest in Zagori, Agia Paraskevi Monastery, is dating from the 15th century, and just 15 minutes walk from the village with its well-preserved frescoes and astonishing panoramic views of Vikos Gorge. Or, visit the interesting Rizario Museum of local handcrafts work. Alternatively, you can walk up and down the streets of Vitsa encountering on the way traces of the ancient Molossian settlement, testimony of the probable origins when Zagori started being populated (9th to 4th century BC); several old Orthodox churches like the fortress-monastery of Prophet Elias well deserves a visit. A short hike to the Stone Forest could also be arranged (approx 3 hours out and back).

Day 5: Monodendri – Vikos Gorge – Papigko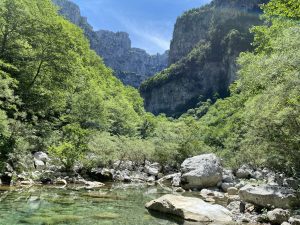 After enjoying a recomforting homemade breakfast, get ready to start early in the morning to profit the best of this demanding hike though loaded with stunning views along the paths. From Monodendri, we start descending to the bottom of Vikos Gorge then walking along the canyon for approx 4h; the easy part of this day hike. In the middle of the gorge, there is a spring where we can refresh and will have our lunch break. At the end of the canyon, we will start ascending for two hours to the village of Papigko.; the tough and demanding part of the hike. In Papigko, we will rest and recover energies in a comfortable and typical accommodation run by our welcoming hosts Voula and Tasos. This village is one of the most picturesque and lively in Zagoria with plenty of local and international restaurants, bars and cafes. Still, fortunately not disturbed by mass tourism.

distance: 14,5km       

duration: 6-7h       

ascent 1100m - descent 1325m

Day 6: Papigko – Refuge – Drakolimni - Astraka Refuge
Today, be ready for a bit intense hike, though only for the first two hours. From Papigko we will ascend to the mountain range of Tymfi, after approx three hours we will be reaching the Astraka refuge. The peacefulness, wild landscape and mountain views from this spot are unbeatable!
From the Astraka refuge, we walk for 1 hour and 15 minutes to Dragon Lake (Drakolimni). An alpine lake at 2.000m altitude; one of the most spectacular things to do in Pindos. Here we will take the time to sense nature, the cool air, the quietness of these breathtaking views given by this mountain scenery. After this vitalizing break, we will return to the Astraka refuge (1 hour) where we will spend the night in a dorm at this mountain-style lodging. At the refuge, you will have available some meal options (at quite reasonable prices), recovering your energies and contemplating the uniqueness of this landscape from 1.950 meters altitude.

distance: 13,5km       

duration: approx 6h       

ascent 1555m - descent 580m

Day 7: Astraka Refuge – Vradeto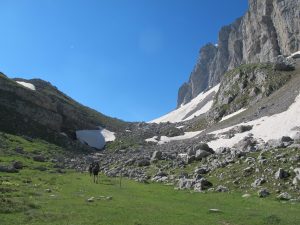 Early wake-up - early light breakfast. At 9:00, we start our last day hike. From the refuge, a few minutes hike uphill until the mountains plateau atop which we will walk flanked by the beauty of the mountain peaks and the wide green highlands surrounding us. After approx 3 hours, we will enter the Megas Lakkos canyon and we will continue our hike from above this, along its left side. Once halfway inside the canyon, we will have our lunch break. Another 2,5 hours and we will be reaching the village of Vradeto where our last night in Pindos awaits. Time for enjoying a delicious local typical dinner prepared by Violeta and Spiros, our hosts at their also typical guest-house.

distance: 13,5km       

duration: 5-6h       

ascent 565m - descent 1130m

Day 8: Vradeto - Thessaloniki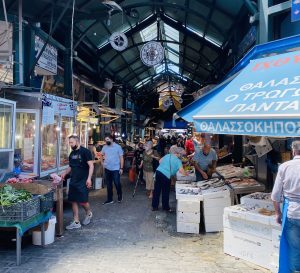 Enjoy your late wake-up and your fresh homemade breakfast. For now, the last one during your mountain journey in Zagori, but not the last one in Greece yet. Time to recap your Pindos experience. Calmly, we will start our 3,5 to 4 hours driving back to Thessaloniki where we have a comfortable hotel in the lively city center arranged for you. You will have the rest of the day for you to explore a bit more of this cheerful city by yourself.

Day 9: Departure from Thessaloniki, or extend your stay
End of your Northwest Greece experience and back to your homeland. Or, depending on your schedule, you could extend your stay in the surroundings of Thessaloniki or other destinations in Greece. Think of, for example, Halkidiki and its turquoise beaches, Prespes Lakes National Reserve region and its outdoor activities, or the well-known Greek Islands. We will be happy to provide you with all the guidance you may need.
Trip Includes:
All transfers during the trip (private minivan with AC from/to Thessaloniki)
2 overnight stays in a 3-stars city hotel in Thessaloniki, based on 2-person (day 1, day 8)
5 overnight stays in typical guesthouses, based on 2-person (private double/twin room)
1 overnight stay in a refuge hut dorm (8-person bunk beds dorm)
2 breakfasts at the city hotel in Thessaloniki
5 breakfasts at the guesthouse accommodations
1 breakfast at the refuge
6 lunch-boxes
1 buffet lunch (day 2)
1 tapas dinner (day 1)
5 dinners
Luggage transfer between the overnight locations (except day 6)
Dossier with the routes and activities descriptions in English and Dutch
English speaking mountain guide
Excursions as mentioned
Tourist tax
Trip Excludes:
International, domestic flights
Dinner Day 6 (meal options at the refuge)
Dinner Day 8 (hotel night back in Thessaloniki)
Drinks, snacks
Tips
Insurances
Optional Single Room (supplement 240 euros)