Overview
Itinerary
Includes / Excludes
Map
Gallery
Reviews
Booking
FAQ
A self-guided hiking circuit in West Pindos, combining nature, culture, cuisine with moderate and intense level hikes.
"Originaria" provides you with the hike routes per day and all the necessary information in detail for you to explore Pindos by yourself.
This mountain gem is home to 46 typical "stone-house" villages, dating from the 9th century, which are still connected through a network of old mule paths and well-preserved magnificent stone bridges crossing dozen of rivers. All of these villages are beautifully set by their charming cobbled streets. [All our overnights during this trip are in these traditional stone-house accommodations; click here to see them]
Highlights of Nature & Villages Hike,  7 Days (self-guided)
Beloi viewpoint
Stone Bridges hike
Vradeto Steps (Skala)
Traditional stone-house villages
Vikos Gorge
Astraka Plateau
Drakolimni (Dragon Lake)
Rock Pools
Characteristics
Tailor-made Trips:
We believe in taking the time to sense with calm a travel journey. If you like a less intense and more chill hike, you can then fully tailor this trip with us according to your schedule and travel style. We advise you to arrive in Greece (Thessaloniki or Athens) the day before you start your hike in Pindos; and stay overnight in Thessaloniki or Athens after finishing the hike. Decanting your visit is part of the experience (if you still need to get back home on the same day your hike ends, we will be more than happy to assist you).
Prices from €590 pp (based on two persons and double room) depending on the season and number of travelers.
Feel free to contact us with your questions!
We are ready to assist you with reserving a suitable hotel the night before starting and after finishing your hike.  Send Us Your Trip Requests Here! or via email to: contact@originaria-travel.eu
Day 1: Ioannina – Tsepelovo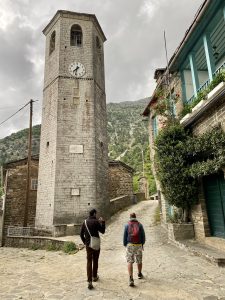 You arrive in Ioannina, at the Bus Station or at the Airport, from Thessaloniki or Athens. At Ioannina Bus Station / Airport, there will be a pre-booked taxi waiting for you which will take you to Tsepelovo village (approx one hour). Ms Anthoula, your host, will be waiting for you at her typical stone guesthouse. In the main square of the village, you will find a couple of good local restaurants where you can enjoy a good dinner.
* [Best to do: if you arrive the day before in Greece, you could depart to Ioannina early morning arriving in Tsepelovo around lunchtime. You will have the time to do a short hike of 2,5 hours (go and back) to the viewpoint of Vikaki Gorge and to the ancient Rogkovou Monastery, 3,5km from the village].

transfer distance: 51km       

duration: 1h 10'
  *

hike distance: 7km       

duration: 2,5-3h       

ascent 100m - descent 100m
 

overnight in Tsepelovo

Day 2: Vradeto – Beloi - Kapesovo – Tsepelovo
After breakfast, short transfer to Vradeto. Here you will start an easy hike to Beloi viewpoint where you can admire the spectacular bird's eye views of Vikos Gorge. Back to Vradeto to continue through the emblematic Vradeto steps, a centuries-old stone-stairway which was the only way to connect Vradeto with Kapesovo village in the past. In Kapesovo, take the time to scroll around its traditional small stone-paved streets, drinking a coffee or maybe having lunch at the square of the village, while enjoying the quietness of this mountain scenery. After lunch you will hike back to Tsepelovo where you can relax the rest of the afternoon sitting at a terrace cafe, visiting its ancient Greek Orthodox Church or simply relaxing at your accommodation.

distance: 12km       

duration: 5-6h       

ascent 325m - descent 580m
 

overnight in Tsepelovo
Day 3: Tsepelovo – Kipoi - Vitsa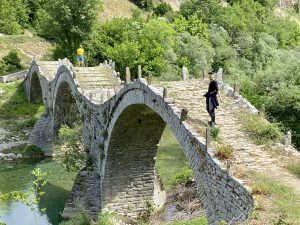 Today you will have one of the most pleasant hikes combining both culture and nature. A testimony of how villagers in the old times connected to each other through the "traditional stone bridges trail". A walk into the forest, next to small rivers crossing them via beautiful old stone bridges. From Tsepelovo, you follow a wide path flanked by pine and beech forests, crossing the first stone-bridge (Chatsiou) until we reach the village of Kipoi (2,5 hours). Here we will visit the Lazaridis Bridge just next to the village and Mylos Bridge a few hundred meters from the main road. Time for a short rest and our lunch break. You continue through the Bridges Trail for approx 3 more hours crossing the last and most characteristic stone-bridges of this trail before arriving in Vitsa village. In this village, you can spoil yourself at the guest house with the good dinner options the owners offer.

distance: 15km       

duration: 5-6h       

ascent 795m - descent 830m
 

overnight in Vitsa
Day 4: Monodendri - Vikos Gorge - Papigko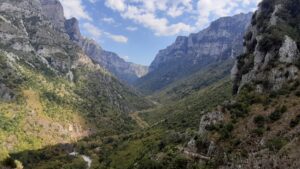 Enjoy a recomforting home-made breakfast and get ready to start early in the morning to profit the best of this demanding hike though loaded with stunning views along the paths. From Vitsa, a short transfer to Monodendri where you start descending to the bottom of Vikos Gorge and continuing along the canyon for approx 4h; the easy part of this day hike. In the middle of the gorge, there is a spring where we can refresh and will have our lunch break. At the end of the canyon, you start ascending for two hours to the village of Papigko.; the tough and demanding part of the hike. In Papigko, you can recover energies in a comfortable and typical accommodation run by our welcoming hosts Voula and Tasos. This village is one of the most picturesque and lively in Zagoria with plenty of local and international restaurants, bars and cafes. Still, fortunately not disturbed by mass tourism.

distance: 14,5km       

duration: 6-7h       

ascent 1115m - descent 1325m
 

overnight in Papigko
Day 5: Papigko - Dragon Lake - Refuge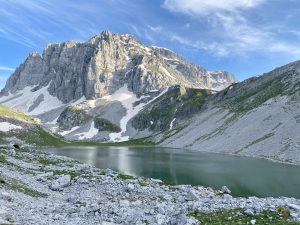 Today, be ready for a bit intense hike, though only for the first two hours. From Papigko you will ascend to the mountain range of Tymfi and after approx three hours we will be reaching the Astraka refuge. The peacefulness, wild landscape and mountain views from this spot are unbeatable!
From the Astraka refuge, you hike for approx 1 hour and 15 minutes to Dragon Lake (Drakolimni). An alpine lake at 2.000m altitude; one of the most spectacular things to do in Pindos. Here you can take the time to sense nature, the cool air, the quietness, the beauty of this mountain scenery.
After this vitalizing break, you will return to the Astraka refuge (1 hour) where you will spend the night in a dorm mountain-style lodging. At the refuge, there are available meal options (at quite reasonable prices), perfect for recovering your energies and contemplating the uniqueness of this landscape from 1.950 meters altitude.

distance: 13,5km       

duration: 6h       

ascent 1550m - descent 580m
 

overnight in Refuge (dorm)
Day 6: Refuge - Tsepelovo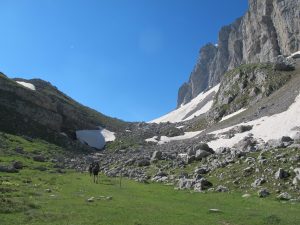 Early wake up - early light breakfast. From 9:00am, start your last day hike. From the refuge, a few minutes hike uphill until the mountains plateau atop which you will walk flanked by the beauty of the mountain peaks and the wide green highlands surrounding you. After approx 3 hours, you will enter the Megas Lakkos canyon continuing your hike. Another 2,5 hours and you will be reaching the village of Tsepelovo where your last night in Pindos awaits. Time for enjoying a traditional dinner in any of the local restaurants at the main square.

distance: 14km       

duration: 6h       

ascent 565m - descent 1130m
 

overnight in Refuge (dorm)
Day 7: Tsepelovo - Ioannina (Thessaloniki / Athens)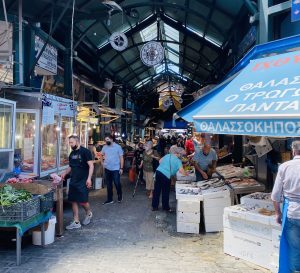 Depending on your schedule you can enjoy a late wake-up and your fresh homemade breakfast. For now, the last one during your mountain journey in Pindos, Zagori. Time to recap over your Pindos experience. A private taxi will take you from Tsepelovo to Ioannina bus station or Ioannina airport. If you are staying overnight in Thessaloniki/ Athens, you can calmly start the bus drive to the bus station. Upon request, we can arrange your hotel and simply relax the rest of the day exploring a bit more of the city by yourself.
Trip Includes
All informative material and maps in detail per hike (digital) in English and Dutch
GPS and mobile with a local phone number
5 overnight stays in typical guesthouses based on 2-persons (private double room)
1 overnight stay in a refuge hut dorm (8-person bunk beds dorm)
5 breakfasts at the accommodations 
1 breakfast at the refuge
6 lunch-boxes
Luggage transfer between the overnight locations
Tourist tax
Trip Excludes
International, domestic flights
Transfers Thessaloniki/Athens - Ioannina - Thessaloniki/Athens (contact us if you wish us to arrange them for you)
Dinners, drinks, snacks
Lunch Day 1
Tips
Insurances
Optional Single Room (supplement 175 euros)